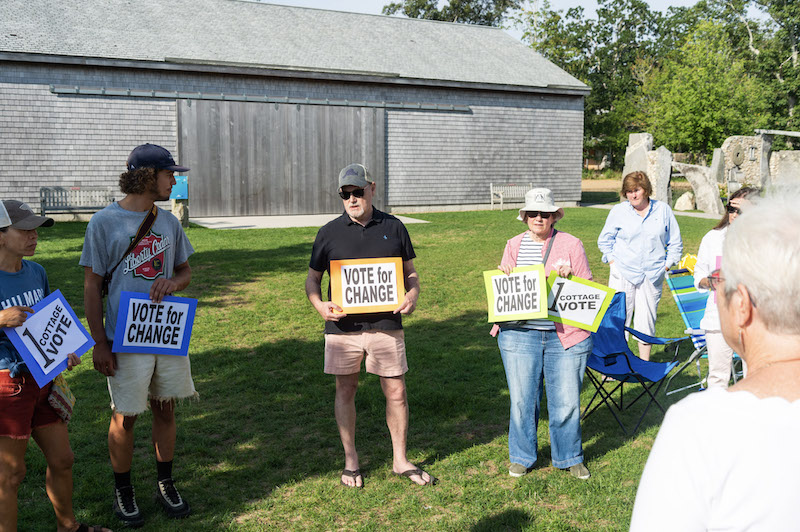 The Vineyard Gazette – Martha's Vineyard News
Holding signs reading "One Cottage One Vote" and "Vote for Change," more than a dozen tenant residents of Camp Ground in Oak Bluffs staged a low-key protest Saturday morning on the lawn of Martha's Vineyard Museum.
Aged 20 at a higher status, they had crossed the city limit to Vineyard Haven because the Martha's Vineyard Camp Meeting Association Board of Directors held their quarterly meeting at the museum, instead of the campground. as per usual.
When board members — and the occasional, mystified museum staff — arrived, protesters greeted them with polite pleas to give tenants a voice in how the association runs Camp Ground.x
Protesting tenants invited council members to speak ahead of the meeting. — Ray Ewing
The campground was founded in the 19th century as a summer tent camp for Methodist worshippers. All of the homes are on properties leased to MVCMA, which collects rents and imposes rules — quiet periods as to how and when properties can be maintained — without formal resident representation. Tenants must renew their land contracts every year or face the prospect of selling or moving their homes.
Protesters also demanded the replacement of board chairman Andrew Patch, claiming he was misrepresenting the community by filing two lawsuits against the Oak Bluffs planning and zoning councils over the conditions the councils had imposed to an approved addition to the Tabernacle.
"We are a community of faith," protester Janet Barker told the Gazette. "Pursuing is not a religious experience."
Tenant residents are also upset by what they see as an intimidating letter Mr. Patch sent last month to a group of neighbors in the Happy Hollow area of ​​the campground, threatening not to renew their ground leases of a year if they continued to use what had been a shared gateway which is now claimed by another tenant.
"I hope this letter is sufficient to put an end to this harmful conduct. There will be no second warning," Mr. Patch wrote on camp meeting association letterhead July 18.
"That last line sums up the whole situation here. We're absolutely fed up," said Jack Sipperly, whose parents have owned their Happy Hollow home on land the charity has rented for 15 years, rented in the campground prior to purchase, and are now residents of the year with their son.
As a boy, Mr Sipperly said, he and his friends explored the campground and always knew the neighbors were looking out for them. Nobody ever talked about intrusion, he added.
"You feel safe," Mr. Sipperly said. "Everyone is so friendly… For anyone growing up, this place is a kid's paradise."
"That sense of community has always been something that makes this place special. That's why we're all here," he said.
His sense of neighborhood comfort was shaken when Mr Patch's letter arrived last month, Mr Sipperly said.
"I was amazed, completely. I was absolutely shocked," he said.
"Get down, Andrew," shouted another protester when Mr Patch arrived at the meeting.
One at a time, three of the tenants, including Mr Sipperly's father, Dave Sipperly, were admitted to the museum to address the board. All three said board members did not respond to their comments.
"They were all taking notes," said the eldest, Mr Sipperly.
A fourth resident, who had registered in advance to speak, was not present when Mr Patch came out to call him. Other members of the group said he may not have heard that the meeting was taking place outside the campground.
On the museum lawn, protesters bowed their heads in a brief circle of prayer as longtime summer resident Ellie Hall addressed the board inside on behalf of the new Campground Leaseholders Coalition (CLC).
"In all my years here, I never thought I would feel compelled to speak in front of the board, but our community is hurting," Ms Hall told trustees, reading from written notes she provided to the board and to the Gazette.
"Under Andrew's leadership, we have never experienced such a major division between council and tenants. A sense of fear and mistrust developed and because of this mistrust and lack of transparency, 14 tenants felt the need to apply for board membership. This may well be an all-time high," Ms Hall continued.
"We are a community of faith and we should reflect that in our actions, especially our leadership. Threatening correspondence should be the last approach to conflict resolution," Ms Hall told the council, quoting Bible Proverbs: "'A gentle answer diverts anger, but a harsh word stirs up anger.' And that's exactly what came out of Andrew's harsh letter. In light of these actions, we ask that you please remove Andrew as President. »
The CLC, which organizer Will Wallace says is still a loose coalition that currently represents about 70 of Camp Ground's more than 300 cabins, follows an earlier, short-lived organizing effort with a similar goal of transparency. and representation.
Camp Ground residents formed Homeowners and Tenants (HAT) in 2004 in response to planned renovations to the Tabernacle, which exceeded the council's estimated cost by almost 100%.
While the association's board said at the time that it would consider changing the bylaws to allow tenants a say in the governance of Camp Ground, the movement died out without significant change.
This time around, CLA members say they are fully in favor of repairs to the Tabernacle's deteriorating roof.
It's the 1,300 square foot addition, complete with a green room, piano storage and 10 bathrooms, which protesting tenants say was unnecessarily – and expensively – added to the project roof and led the association to unjustified disputes with the city.
"It's a tent that's used for two months out of the year," said Janet Barker.
"It's designed to be kind of our place of worship, and we personally don't need 10 bathrooms because we live there and if it becomes a place…for big events, we might lose our 501 (c) 3 [tax exempt status]because we are becoming an event venue, which is really not in the spirit of Camp Ground," Ms. Barker said.
The Camp Reunion Association's board of directors will disclose its membership decisions at a meeting with tenants Sunday afternoon at the Tabernacle, CLA members said.